ROM software on the iPhone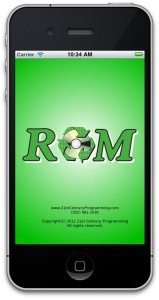 In February, 21st Century launched ROM for iPhone. The mobile app is compatible with software versions: ROM, ROM Brokerage, and ROM Enterprise with use of the ROM Web Connectivity module. iROM gives recyclers access to all their data from dashboard level summaries to individual transaction history, on the road, right from their phone.
According to 21st Century Programming, they will be demonstrating their new application at the 2012 ISRI Convention in Las Vegas, April 15-19.
"Metal traders are movers and shakers – they are always on the go. To assist them in managing their operations away from the office we developed our popular Recycling Operations Manager (ROM) software to be compatible with iPhone," said Dave Kane, President and Chief Developer for 21st Century Programming.
ROM for iPhone is an extension of the desktop software program, functions as a management application and allows recyclers to review data stored on their facility's server from anywhere in the world. Users can access accounts receivable, accounts payable, sales order balances, purchase order balances, sales and purchase information, open shipments, open receivers and customer contact info.
21st Century says with iROM, users don't just get an overview of transactions in progress, but can drill down to specific order details with material photos and up-to-date balance information. Users of iROM can also view open scale tickets in both shipping and receiving.
"The iROM application for iPhone is so easy to use," commented Larry Zweigbaum, CIO, Alliance Steel Service Company in St. Paul, Minnesota. "It duplicates every major function of the desktop software so that our sales force or management can be up-to-date when they arrive on the doorstep of any customers anywhere in the world, at any time. With iROM we've been able to dramatically improve our client relations, giving us a higher degree of credibility among our customers and our peers."
The smart phone application is made safe and secure with the requirement of a user name and password and a four-digit pass code. The iPhone application allows access to the data stored on the user's server; no data is actually stored on the iPhone. A robust security system controls who has access to what data, with the capability of limiting users to seeing only their customer's data.