Track-mounted stackers match with tracked screening and crushing plants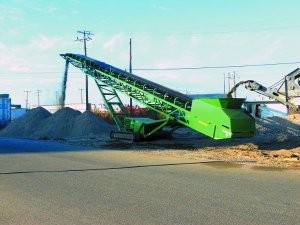 McCloskey International Ltd. recently announced their new diesel powered 36-inch x 65-foot, 36-inch x 80-foot and 36-inch x 100-foot track-mounted stacking conveyors.
"By adding a track-mounted option for stockpiling solutions, the whole spread, including stackers, can be easily moved and reconfigured on site as operational requirements change," explains Barry Greenaway, McCloskey.
The 80-foot model has a maximum capacity of 500 tph at the highest incline while the 65-foot and 100-foot models can carry 600 tph. Up to 800 tph is available as an option on all models.
As with the rest of the McCloskey Stacker range, Track Stackers are counterweighted and the undercarriage is set back from the centre. The Track Stacker range can therefore run at a 22.5 degree incline and stockpile all the way to the head pulley without burying the tracks. Discharge heights for the 65-foot, 80-foot and 100-foot models are 25 feet 10 inches, 36 feet and 40 feet 5 inches respectively.
Other features include a hydraulically lifting feed end, a hydraulic main lift with a two-stage system, and hydraulic top fold which allow units sto meet North American transport regulations (permit free in most States and Provinces) and be deployed from a trailer to working position in minutes.