QA331 mobile three-way split screener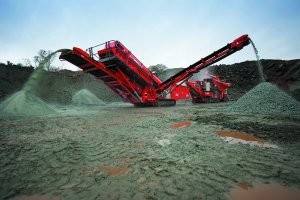 The QA331 is a brand new state of the art mobile three way split screener based on the Sandvik`s model QA330. The new model now comes with improved screening capacity, and is a robust, highly durable machine, that has been designed specifically for the recycling and contractor market.
At the heart of the QA331 is a 4.27 m x 1.52 m (14 foot x 5 foot) two bearing screen box that possesses an increased six degree screening angle built into the bottom deck of the screen. This feature, coupled with the larger screening surface area, and increased throw on the screen box, enhances screening efficiency and capacity through the actual screen box itself. The QA331 provides high production rate through a large screening area, high frequency adjustable angle, a double deck screen and a six degree inclined angle on screen-box to produce a "banana" effect.
Units are fully capable of working at inner city developments or at a recycling centre. A modern chassis I-beam design ensures maximum durability for arduous conditions, and units are designed for optimum fuel economy and low operating costs.
Sandvik also recently announced the launch of their new mobile, track-mounted QH440 cone crusher (2012).
Related Articles
Traditionally, waste management companies have operated using a simple "management of waste" approach to operating a MRF. Throughput targets and continuous operation (minimal downtime) were the main driving forces. The industry has changed however, and the focus moving forward is now on optimizing system performance and reliability, in conjunction with increasing recycling rates and a drive for a "greener" and more sustainable tomorrow.
When considering the addition of, or upgrade to, an "intelligent" MRF, for municipalities or private operators, the main factors should always be the client's (operator) current requirements, and evolving market needs, which include throughput, reliability, output quality, and adaptability. Equally important is a full understanding of what is really expected from any proposed system. Having an engaged and focused mindset for the project with the client from the beginning, will impact and drive the entire design process. This then impacts the overall project result, through to the productive, efficient, ongoing operation of the facility itself.