"Revolutionary" organic industrial waste treatment technology introduced to North America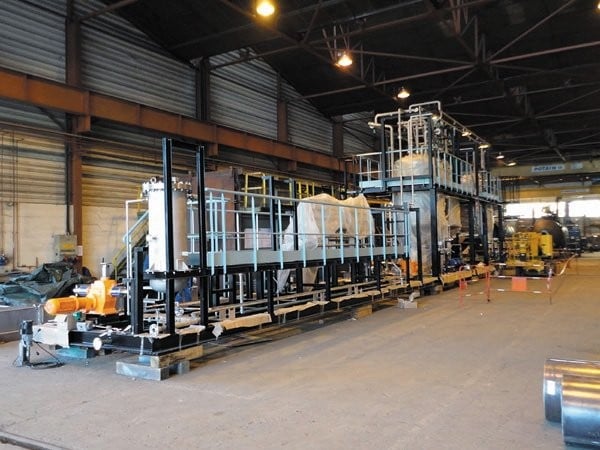 Innoveox recently announced that they have made available a new, innovative ecological solution called Supercritical Water Oxidation. The new technology, designed in France, treats organic industrial waste cleanly, even when it is toxic, without producing any dangerous elements. The wastewater produced contains no metals or minerals, and it can be discharged directly into the natural environment. Because of this, Innoveox says this process is not only less expensive and more efficient than traditional treatment techniques, it is also environmentally friendly.
Supercritical Water Oxidation does not produce or transfer any pollution or toxic by-products. It uses "cold" combustion of organic matter, which it destroys, leaving only water. The waste, even if toxic, is subjected to a temperature of between 350°C and 550°C at a pressure of 221 bars, with oxygen present. This technique is particularly suited to liquid waste that is too concentrated to be broken down biologically or too diluted to be incinerated efficiently. Innoveox says all organic industrial waste can be treated: hazardous waste like pesticides, PCBs, used oils and solvents, petroleum waste, or complex, corrosive, refractory and even explosive waste.
Supercritical Water Oxidation can also be used to treat the wastewater from water treatment plants, and has a vast field of application that even extends to nuclear and military fields, particularly to neutralize chemical weapons. Traditional procedures, like incineration, physical-chemical treatment (sedimentation, filtration, etc.) or burial only treat waste partially, despite a very high cost. Innoveox says Supercritical Water Oxidation on the other hand, with its extremely competitive treatment costs is extraordinarily efficient since it can treat 99.9 percent of the waste. It also permits recovery of minerals and metals for recycling.
Another of its strengths is the speed of treatment (reaction lasting about one minute) and the system's compactness. Plus, it can be installed directly in high-risk areas, to avoid the need to transfer costly, dangerous waste.
Innoveox has the exclusive global rights to this technology, developed and patented by CNRS (French National Centre for Scientific Research), and says it is now available to industry. The company also says various applications are currently under development in various fields. In aerospace, for example, carbon fibre can be recycled with high added value in composite materials, instead of incinerating it. In the biomass sector, this technique will be used to produce energy, bio-fuels and raw materials for green chemistry. Innoveox also says that due to this technology, it is also now possible to greatly reduce the amount of waste produced by nuclear power stations.