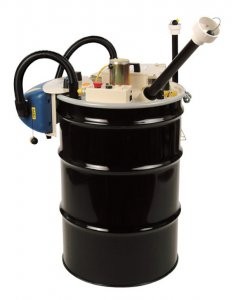 The CFL Premium Bulb Eater is engineered to crush straight fluorescent tubes of any length, as well as compact fluorescent lamps (CFLs). This technology crushes a bulb in one second, saves up to 50 percent on recycling costs, reduces labour by up to 20 hours per 1,000 lamps, and minimizes storage space by up to 80 percent. The CFL Premium Bulb Eater crushes spent fluorescent lamps and CFLs into 100 percent recyclable material, while capturing over 99.99 percent of the vapours released.
The system, which is mounted to a 55-gallon container, can hold up to 1,350 four-foot fluorescent lamps or 3,000 CFLs. This technology also reduces handling and provides a safer work environment as well as lower costs. The Bulb Eater lamp crushing system is mobile, and can be rolled on a 55-gallon drum dollie.
Plus, Air Cycle says users can save roughly 20 hours of labour per 1,000 lamps, by crushing rather than boxing. The Bulb Eater also provides a 0.001 percent emission rate, which means very low mercury vapour emission. Units are equipped with a side-mounted dust filter unit, containing the highest quality H.E.P.A. filter available. This works in conjunction with an activated carbon filter located in a steel canister. Additionally, a newly introduced safety control panel gives operators added security by monitoring seven aspects of the machine to better ensure operator safety.