Hands-free waste and recycling containers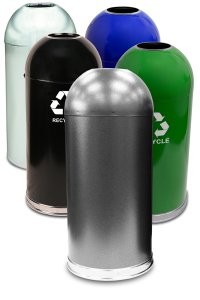 Witt Industries introduces the Granite series, the newest addition to the popular "hands free" dome topped 415DT family of waste and recycling containers. The new model combines aesthetics and functionality with a decorative granite-like finish which complements many color schemes and décors, and features a texture that resists smudges and fingerprints – allowing the receptacles to preserve their new appearance with very little maintenance. The Granite 415DT and the entire 415DT family are ideal for hotel lobbies, movie theatres, executive offices, malls, restaurants, coffee shops and more; combining them with the 415DT-R recycling units, makes them perfect for facilities seeking compliance with green initiatives.

Crafted from durable, fire safe steel with a galvanized liner, the 415DT hands free family is decorative and functional – providing long-term value for a single-stream collection of waste or recyclable materials. In addition to the smudge-resistance Granite finish, they are also available in Blue, Black, Green, Chrome and a combination of Black and Chrome – with a large and highly visible recycling logo available on 415DT-R (recycling) models. Models of the various finishes can be paired for an attractive and functional waste and recycling station.