Front engine power take-off option for Kenworth T800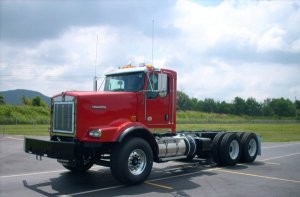 Kenworth Truck Company has introduced a new front engine power take-off (FEPTO) option for the Kenworth T800.
The T800 FEPTO is designed and well-suited for municipal and vocational fleets that require a front engine PTO. This configuration works well for refuse and recyclables, and it provides a front-frame extension for applications requiring front-mounted equipment, such as hydraulic rams or hose reels.The extended front frame rails are available in three sizes, and a front engine PTO, crankshaft-driven adapter is an option.
The Kenworth T800 FEPTO utilizes a new hood designed for easy access to the engine and which allows for an increase in cooling module size without having to raise the cab height. The T800 FEPTO is offered with a 2010 PACCAR MX engine (up to 485 hp) or a 2010 Cummins ISX11.9 (up to 425 hp), and either Allison automatic or Eaton manual and UltraShift(R) Plus transmissions. Kenworth's FEPTO lineup also includes the Kenworth T470 powered by the PACCAR PX-8 or Cummins ISL engines which offer up to 380 hp, and the C500 available with the Cummins ISX15, offering up to 600 hp.