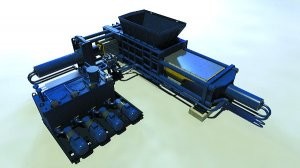 ATM's ArnoPress K 600-2 is a massive two-ram baler weighing 92 tons, and is ideal for those companies that require high volume output.
"What is unique with this baler is the ability to make a very large bale with a wire tie system, or to make a dense bale of copper or stainless with no wire tie system," explains Mike Dempsey, ATM Recyclingsystems.
"We have two customers in Canada that have ordered a total of three machines (in 2011). A 600-ton two ram baler with the option for a second push of the second ram is proving to be a very versatile machine."
These balers will process all kinds of ferrous and non-ferrous metals as well as paper, cardboard, plastics, foil and bulky waste. Capacity per hour of copper and steel is up to 60 tonnes/hour, and capacity of aluminum is up to 40 tonnes per hour.
Wear plates are available with square-, trapezoid- and wave-shaped profiles and a fully automatic binding machine for the binding of bales is optionally available. Oversized bales can be ejected, even through the binding machine, and a hydraulic scissor-lift device can be added. Plus, feedstock metering can be carried out either directly by handling equipment, by weighing, or by pre-dosing, to optimize productive capacity, and PZT pump activation technology is used to regulate the required quantity of hydraulic fluid per cylinder, thereby minimizing the necessary drive energy of the press.
The bales are sized to fill a 20-foot container with maximum volume and weight, and bale height and width allow users to stack bales in a container three high by two wide.
Company info