J-1160 compact, tracked mobile jaw crusher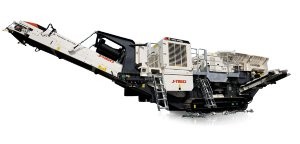 The Terex Finlay J-1160 is a compact, tracked mobile jaw crusher that offers maximized productivity with an advanced control/monitoring system that facilitates automatic start/stop sequences.
Featuring a Terex JW40 single toggle jaw crusher with a 1,000mm x 600mm (40-inch x 24-inch) inlet opening, the Terex Finlay J-1160 is suited to recycling/demolition and features a reverse function to assist in clearing the chamber, should a blockage occur.
Key features include: hydrostatic transmission; precise control of the chamber speed; a heavy-duty vibrating grizzly feeder with integrated pre-screen; automatic, variable-speed VGF; a high-powered hydrostatic drive; and a fully hydraulic adjustable closed side setting for quick adjustments.