REB-2 balers handle everything from radiators to OCC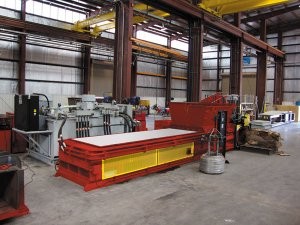 Sierra's REB-2 150- and 250-hp "recycle everything" balers process aluminum, extrusions, cans, stainless steel, copper, radiators and wire, as well as OCC, paper and PET. These units use twin 75-hp, 460-volt, three-phase, 60-hertz motors (twin 125-hp motors available) and provide 310 bar (4,500 psi) hydraulic system operating pressure. REB-2 balers also feature a 5-micron return-line, 3-micron kidney loop filtration, a flooded suction power unit and patent-pending, adjustable ram guides.
Other standard features include: separation door with bale relief; tongue and groove floor liner plates; Allen Bradley PLC; Panelview HMI and modem for on-site diagnostics; conveyor controls up to 10 hp; main ram penetration to 60 percent of the bale chamber; and an automatic wire tier.
Bale weights with the REB-2 are from 1,000 to 5,500 pounds, depending on the material, hopper openings are 78-inches wide by 101 inches long, and shear/baling force is up to 254 tons.
Company info
Related products