Recycling station handles up to four types of waste and is reconfigurable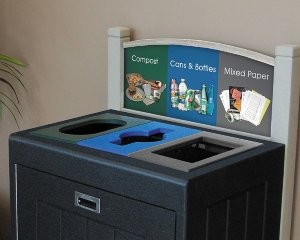 CleanRiver Recycling Solutions has introduced a new waste and recycling station that is designed to be easily configured and reconfigured. CleanSort Transition Series Recycling Stations use stream-specific, interchangeable openings and internal dividers to accept multiple types of waste and recyclables in a single unit. Ideal for offices, these modular and configurable units easily adapt to waste stream changes, thereby extending their life cycle and contributing to the ROI of the recycling program.
According to CleanRiver, CleanSort Transition Series recycling stations represent a breakthrough in container design. These units may first go into service as a single-stream trash receptacle. As recycling programs are implemented, the trash opening can be replaced with one, two, three or even four modular and interchangeable restrictive opening plates which are colour coded and supported by full colour graphics to indicate what is being collected in each opening.
"You won't outgrow your waste management equipment and you achieve a higher ROI on your purchase," said CleanRiver President, Dave Jarrett. CleanRiver Recycling Solutions
Company info