XRF analyzers provide rapid, on-site elemental analysis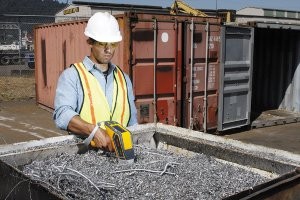 Thermo Scientific Niton portable x-ray fluorescence (XRF) analyzers, now including the handheld Niton XL2 GOLDD Series analyzer and the enhanced Niton XL3t GOLDD+, are designed to provide users with high levels of productivity and profitability in metals recycling.
These analyzers are engineered to quickly and accurately determine alloy grade and chemistry of metal alloy scrap, including nearly every element in virtually all types of metal alloys, including light element performance for sorting aluminum, titanium, bronze, zinc super alloys and specialty steels.
According to Thermo Scientific, their geometrically optimized large area drift detector (GOLDD) technology delivers faster measurement times and lower detection limits – as much as ten times faster than conventional Si-PIN detectors and up to three times more precise than conventional smaller silicon drift detectors (SDD).
This technology also allows light element analysis of magnesium, aluminum, silicon, phosphorus and sulfur, without helium purge or vacuum assist. According to Thermo, Niton XRF alloy analyzers allow users to perform more than 1,000 readings in an eight-hour shift – from trace levels to pure metals and everything in between.