Range of new collection products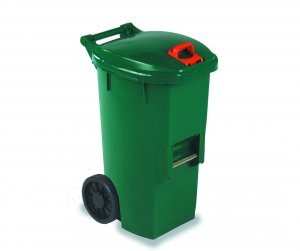 ORBIS unveiled three new products at Waste Expo 2011, including their Norseman Environmental brand Commercial Recycling Container, Hybrid Commercial Containers (plastic dumpsters) and Recycling Product Accessories series (bin dollies, floating bin rails and bin bungees).
The company's new Commercial Recycling Container is a 55-gallon all-plastic bin designed for heavy traffic areas at businesses, restaurants, public areas and institutions. Units are ideal for indoor and outdoor use, and a snap-on lid with molded-in recycling receptacles is sized for separating all bottles and cans. These containers are available with optional wraps, labels and signage to maintain effective branding.
Since May, 2011, ORBIS also introduced the Norseman 21 gallon Green Bin+ (shown). Designed to make recycling organic waste easier and more efficient, and in response to demand for a mid-capacity wet organics bin for both commercial and domestic applications, the Green Bin+ is manufactured with recycled material and designed for automated and semi-automated collection. This product is easy to transport and easy to clean, and features secure 360-degree double rim closure, top latch or latchless design, as well as RFID compatibility, retention clips for compostable liners and eight-inch wheels for easy mobility. Optional hot stamping is also available for effective branding.