Next generation impact crushers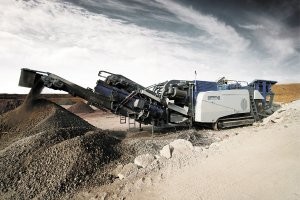 The EVO Series of track-mounted, mobile impact crushers from Kleemann constitutes the company's next generation of machines. The series includes the MR 110 R EVO, MR 110 Z EVO, MR 130 R EVO and MR 130 Z EVO mobile impact crusher plants.
According to Kleeman, the EVO concept matches refinements for all individual components with a new, highly efficient material flow concept, which eliminates all restriction to the flow of the material throughout the entire plant. For example, the discharge chute under the crusher is four inches wider than the inner width of the crusher, and the subsequent discharge belt is another four inches wider than the discharge chute. Material is thus transported quickly and carefully away from the critical area under the crusher, with flow rate increased, and wear reduced.
Kleeman says that even before the crushing takes place, there is an improvement in the material flow, thanks to the system widths of the feeder troughs and a grizzly that facilitate flow of the material through the opening of the crusher. These units use an independent and effective vibrating double-decker pre-screen, and feature improved vibration of the pre-screen and vibrating feeder below the crusher.
Other key features include: a newly designed crusher bypass; a new inlet geometry which allows even better penetration of the material into the range of the rotor; an efficient direct drive with adjustable rotor speed; fully hydraulic adjustment capability of the crushing gap; and a new user-friendly touch screen control unit. These screening units also feature significantly increased screening area, allowing for delivery of considerably higher overall tonnages up to 350 and 450 tph.