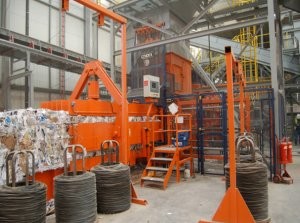 Distributed in North America by Ecovery LLC, the Lyndex Meggabite baler features a production capacity of 65 tons per hour, and achieves OCC density of 34 pounds per cubic foot. According to Ecovery, wire cost on the Meggabite is very low and it provides the lowest energy cost in the industry.
Meggabite will bale materials from paper to refuse, and includes pre-compression flaps for heavy or difficult materials and shear blades for light materials.
Other features of Meggabite Series machines include: a 2m x 1.8m hopper; large bale size; five vertical wires and three horizontal (optional); a drive up to 165 kW; and throughputs up to 85 tonnes per hour.