The "Recycle Everything Baler"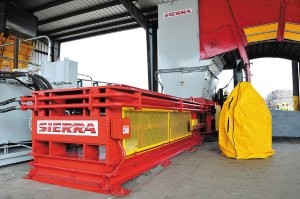 Dubbed the "Recycle Everything Baler", the Sierra REB-1 handles aluminum, extrusions, cans, stainless steel, copper, radiators and wire, as well as OCC, paper and PET. These units feature power of 56kw (75-hp ), 480-volt, 3-phase, 60-hertz, 306-bar (4,500-psi) hydraulic system operating pressure, and Wye Delta main motor starting.
The REB-1 also uses a 5-micron return-line, 3-micron kidney loop filtration, a flooded suction power unit, oil cooler/heater, patent-pending adjustable ram guides, a separation door with bale relief, tongue and groove floor liner plates, and Hardox 450 replaceable liners.
Additional features include: an Allen Bradley PLC; Panelview HMI which provides for material selection and diagnostics; a modem for on-site diagnostics; automatic operations on most materials; conveyor controls; main ram penetration to 60 percent of the bale chamber; heavy-duty frame and ram construction; an automatic wire tier (Accent or L&P available); plus an operator's platform and a bale table.
Hopper openings are 60 inches wide by 77 inches long, and charge box openings are 41 inches wide by 72 inches long. Bale weights, depending on material, range from 1,000 pounds (aluminum cans) to 5,500 pounds (copper wire). Shear/baling force on the REB-1 is 143 tons, and ram face pressure is 241 psi.
Also available, the REB-2 model baler features 150- and 250-hp versions, hopper openings of 78 inches wide by 101 inches long, ram face pressure of 304 psi, and shear / baling force of 254 tons.
Company info
Related products