Hazardous waste recycling unit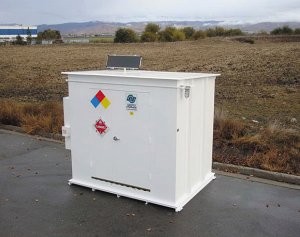 This Municipal Hazardous Waste Recycling unit is designed to enable municipal waste handlers to meet safety, economy and security objectives in the collection and storage of small quantity hazardous wastes, ranging from paints and pesticides to cleaners and motor oils.
These units are built compact, easy to handle and provide safe, convenient, fully engineered containment and storage. Hazardous waste materials can be identified, packed into drums and safely stored on site until a sufficient quantity is amassed for transport to an authorized hazardous waste recycling location.
The pre-fabricated Municipal Household Hazardous Waste Recycling unit features heavy-gauge steel construction, chemical-resistant coating, a built-in secondary containment sump to capture spills or leaks from damaged containers, and removable galvanized steel floor grating. Safety Storage
Company info