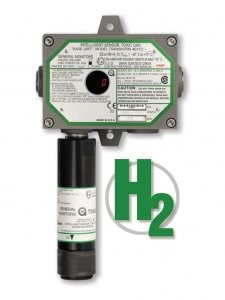 Reliable monitoring for small hydrogen leaks in a variety of industrial and commercial facility environments is now available with the TS4000H Intelligent Hydrogen Gas Detector from General Monitors, which accurately detects hydrogen at 0-500 ppm levels.

The TS4000H Gas Detector continuously monitors for hydrogen. It features a precision electrochemical hydrogen sensor that has a T90 response of under 30 seconds and minimal zero shift across its operating environmental conditions. Furthermore, it is unaffected by short-term (≤ 2.5 min) exposure to hydrogen concentrations up to 50% LEL.

The TS4000H Detector features a sophisticated design with many advanced functions, including 4-20 mA output, 8 amp relays, HART or Modbuscommunications, and a 3-digit LED display that displays gas concentrations in ppm. The system also displays fault codes for troubleshooting and provides complete status to the ControlRoom.

All of the electronics are contained within an explosion-proof housing so that gas sensor information can be processed at the sensor site. The gas sensor may be remote mounted up to 2000 feet (610 meters) away from the electronics.

The interface module's galvanically-isolated, intrinsically-safe design also supports sensor field replacement without special tools or hot work permits. The TS4000H detector is easy to install and calibrates by activating a magneticswitch and applying gas.

Process engineers who need to protect people, equipment, and the environment will find the TS4000H hydrogen sensor well suited for a broad range of industries where hydrogen gas leaks are a hazard. For worldwide application, the detector complies with ATEX, CSA, CE, GOST, and is certified for use in SIL 2 environments.
More from Environmental
Single-Ram and II-Ram High-Capacity Balers
At Machinex, we've been designing sorting systems for over 35 years, so we know how essential it is for MRF operators to have a baler they can trust and not worry about its operational reliability. This is why we design and manufacture reliable single-ram and II-ram high-capacity balers to specifically help optimize their operations.
Watch the video of our expert who presents the main features of Machinex balers delivering these important benefits:
Easy & accessible maintenance
Reduced maintenance & bale handling costs
Energy savings
Optimal bale density
For C&D recyclers, waste haulers, demolition contractors and landfills, there is a growing opportunity to profit from rethinking processes. Although every operation is different, by streamlining the front end of the C&D operation processes with purpose-built technologies, recyclers can tap into new end markets, accommodate higher material volumes, stay ahead of regulatory restrictions, increase recovery rates and add commodity revenue, while decreasing labor and other costs.
Download the new eBook to learn about:
Finding opportunities in the alternative to landfilling C&D
How facilities can increase their profits from C&D
Using the right C&D processing technology in the right locations