Upgrade replacement dust collector filters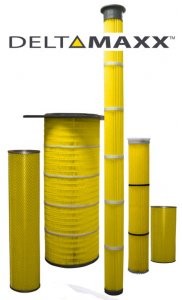 Introducing the new DeltaMAXX Upgrade Replacement Dust Collector Filter Line by Imperial Systems, Inc. The DeltaMAXX Filters deliver long filter life, clean air and high cost savings. The DeltaMAXX Filters are designed to perform as well or better than competitor cartridge filters.

The DeltaMAXX filters offer a number of advantages:
- Advanced NanoFiber Technology
- MERV 15 Filtration Efficiency
- Reduced Dust Collector Operational Costs
- Lower Operational Mass Emissions
- Less Pulse Cleaning
- Surface Loading
- Longest Filter Life
- Highest Quality Pleated Media
- 99.9% Efficiency .3 to .5 Micron

With 99%+ efficiency on .3 to .5 micron particulate, DeltaMAXX NanoFiber Filters provide Maximum filtration. DeltaMAXX Upgrade Filters are manufactured for all makes and models of cartridge dust collectors.
More from Environmental
It's harder than ever to get clean paper. But we've been successfully sorting paper on the front end with optical sorters since 2005. Why have we been so successful? Because we know it's not JUST about the optical. We focus on your entire operation, so you make the most of your fiber line. Is your optical sorter living up to its potential? Call us at 203-967-1100 for a free system evaluation.