Upgrade replacement dust collector filters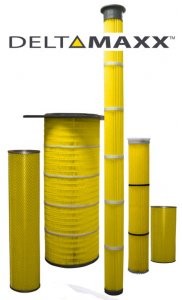 Introducing the new DeltaMAXX Upgrade Replacement Dust Collector Filter Line by Imperial Systems, Inc. The DeltaMAXX Filters deliver long filter life, clean air and high cost savings. The DeltaMAXX Filters are designed to perform as well or better than competitor cartridge filters.

The DeltaMAXX filters offer a number of advantages:
- Advanced NanoFiber Technology
- MERV 15 Filtration Efficiency
- Reduced Dust Collector Operational Costs
- Lower Operational Mass Emissions
- Less Pulse Cleaning
- Surface Loading
- Longest Filter Life
- Highest Quality Pleated Media
- 99.9% Efficiency .3 to .5 Micron

With 99%+ efficiency on .3 to .5 micron particulate, DeltaMAXX NanoFiber Filters provide Maximum filtration. DeltaMAXX Upgrade Filters are manufactured for all makes and models of cartridge dust collectors.