Voice Alarm Dialer
Environmental monitor ideal for composting applications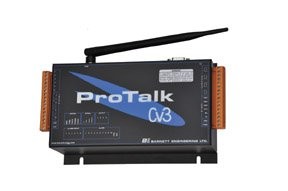 Barnett Engineering's latest voice alarm dialer the ProTalk Cv3 is ideal for use in a variety of applications, including composting. Designed to make monitoring environmental conditions easy and affordable the Cv3 accepts a wide variety of sensors (temperature, humidity, air quality, leak, level and motion, etc) and will notify users immediately when current values exceed the normal range.
With it's integrated cellular module and two-way radio port the Cv3 can make alarm announcements over any combination of cellular network, two-way radio system or Public Address system. Alarm notifications can be voice messages or SMS text to a cell phone. With the touch of a button from any touch-tone phone, users can acknowledge voice alarm messages, control equipment connected to the relay outputs, interrogate the status of any sensor input and make programming changes.
Additional features include event logging, low power mode, optional built in back up battery and a health check status that confirms the Cv3's operational status by sending an SMS text or voice message at user defined intervals.
Barnett Engineering
Company info