Wide range of conveyor system options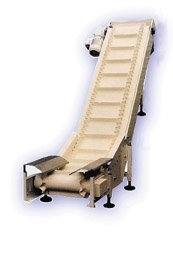 North Carolina-based Gough Econ offers a wide variety of conveyor belt designs and styles engineered and custom manufactured to meet exact customer material handling requirements. The company manufactures bulk material handling solutions with an extensive range of in-line bucket elevators, vibratory screeners and conveyors, hoppers, tote dumpers, vibratory feeders, bulk bag handling equipment and storage conveyors.
The types of customized conveyor belts available from Gough Econ include flat slider-bed, incline, cleated, troughed belts and a variety of others. Styles vary from flat to flighted with inclines up to 90 degrees.
According to Andy Leitch, Vice President of Sales for Gough Econ, the company "offers a variety of conveyor designs, each of which is customized to best suit the specific application and environment." He also says; "Units are designed and manufactured in our Charlotte, North Carolina plant to precisely conform to space requirements and a customer's material handling needs."
"We make a thorough analysis of the material being handled such as product size along with a variety of other criteria including where the product is being moved," Leitch noted. "Along with the customer, we then determine the many specifics such as the type of belting required, type of motor, drive or controls needed, the length, height and angle of the conveyor, the type of leg supports needed and many other such variables."
Also available from Gough Econ is their bucket elevator product. This conveyor innovation is designed to move material in three different directions for optimum flexibility in planning a material handling system within a facility. The unique multi-axis Gough Elecon bucket conveyor and elevator system is ideal for applications ranging from gentle handling to recycling and other heavy industrial applications.
Dubbed the "Go Anywhere Conveyor" the Gough Elecon conveyor uses cantilevered buckets that move vertically, horizontally and can turn any direction up to 90 degrees without having to transfer the load being conveyed. This unique feature lets users fit the conveyor within their production facility instead of modifying their facility to accommodate the material handling system.
The multi-axis capability of the Gough Elecon is the result of its patented chain design and the cantilevered wedged shaped buckets that come together and overlap at the load station. The patented rack and pinion system assures full discharge with a 360-degree bucket rotation on selection and quick return to the upright position for maximum flexibility.
Gough Econ