The next generation in automated scrap monitoring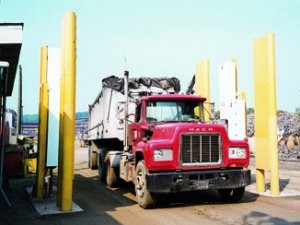 Thermo Scientific's newly introduced ASM IV Series Radiation Detection System is specifically designed to minimize the threat of radioactive material in a waste stream. The ASM IV Series will monitor a variety of vehicle types and scan for undesirable sources of radiation commonly found in scrap metal, allowing operators to reject loads before they can cause harm to personnel or a facility.
These units are built on the proven success of Thermo Scientific's ASM detector designs. Specifically engineered for harsh industrial environments, the radiation detector modules used allow flexibility in creating the optimum configuration on-site. And the unit's detectors provide vertical coverage of a vehicle as well as dwell-time, providing sensitivity even while scanning the largest haulers.
Data management and analysis is provided by an ASM IV System Control Unit (SCU). The rugged unit can be wall-mounted and incorporates an industrial-grade PC and colour touch-screen graphic display. The SCU displays detector data, alarm history and the location of a detected source in a vehicle. The ASM IV is designed to be easy to operate and to withstand the operating environment of a scrap facility. Large-area detectors are shock-mounted and housed in lead-lined NEMA-rated stainless steel detector enclosures, and the System Control Unit (SCU) needs no cooling fans, meaning dust and dirt will not be pulled inside. Plus, the solid-state components of the SCU increase overall reliability. Designed to be operated with little or no operator interventions, the ASM IV SCU also features simple, one-button response to alarm conditions.
Thermo Scientific