Wet particulate dust collector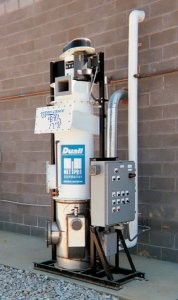 The Hydro-Lance wet particulate dust collector has proven to be an excellent choice for removal of lime particulate and reduction of ammonia odors during the municipal water treatment lime stabilization process. It utilizes patent pending Submerged Air Venturi (SAVe) technology to avoid operational issues associated with a standard Venturi scrubber systems including pump failures, small orifice nozzle clogging, material failures, and general maintenance headaches while still providing the time proven Venturi collection methodology. Key features include more than 99 percent removal guaranteed; thermoplastic, steel or other materials of construction; automatic sludge removal; removable Venturi throat; and integral exhaust fan.
More from Environmental
It's harder than ever to get clean paper. But we've been successfully sorting paper on the front end with optical sorters since 2005. Why have we been so successful? Because we know it's not JUST about the optical. We focus on your entire operation, so you make the most of your fiber line. Is your optical sorter living up to its potential? Call us at 203-967-1100 for a free system evaluation.