UJ440i heavy jaw tracked crusher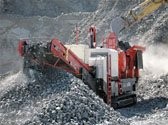 Excellent for the recycling of demolition waste, the UJ440i is a very advanced and productive heavy jaw, tracked crusher. This state of the art machine uses an on-board integrated "intelligence" system that allows it to be continuously and automatically monitored, and is "married" to a fully tracked chassis.
The high production of the UJ440i is due to a class-leading feed opening, coupled with a hydraulic closed side setting which enables rapid changes through push button operation, and which is further enhanced by integral intelligent operation. Plus, process control and tracking are by radio remote, enabling single person operation.
According to Sandvik, the HD crusher on these units is available with an optional engine pre-heater and is capable of handling any type of hard rock, in any climate. Additional key features include quick set-up and take-down time, environmentally-friendly operation, easy transportability, low maintenance, and an on-board diesel engine with low fuel consumption and minimal transmission losses.
Sandvik