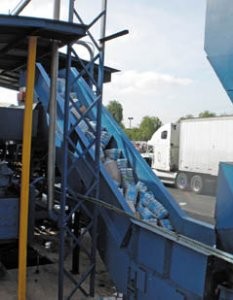 Wisconsin-based Jorgensen Conveyors is the manufacturer of the LoadTamer line of process feeder conveyors for the recycling industry. Recently, the company was contacted by Parallel Products out of California. Parallel Products has been a pioneer in the development of technologies for processing food and beverage wastes into both animal feed and ethanol fuel, by managing the destruction of unsalable case goods of food and beverages.
They needed a hard working conveyor to handle their bulk containers and pallets, weighing 2,500 to 3,500 pounds each, and which are loaded by forklift and conveyed to a sorting table. Jorgensen's solution, which was custom-engineered and built at the company's manufacturing plant near Milwaukee, was an extreme-duty six-inch pitch by 36-inch wide metal apron belt LoadTamer conveyor unit.
"The conveyor operates outside and is subjected to both weather and a harsh liquid environment. Since the conveyor has been installed, it has run trouble free, with no downtime," says Bob Pasma, Vice President of Operations from Parallel.
According to Jorgensen, the LoadTamer line is designed for durability and low-maintenance, and features modular, bolt-together construction with removable side panels for easy inspection and upkeep. The line also features a patented Z-Pan hinged steel pan and combination (rubber and chain) belt styles with engineered long-lasting components, and weather-resistant parts. Units are ideal for handling a wide range of materials, including paper, corrugated, documents, metal, rubber, plastics, wood, scrap, construction waste, as well as co-mingled materials.
Jorgensen Conveyors, Inc