Zero-emission electric vehicle
Might-E Trucks work for recycling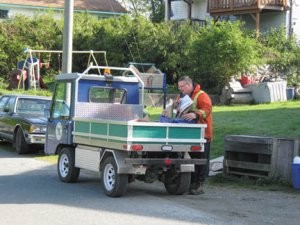 Celebrating its 20th anniversary this year, British Columbia-based Canadian Electric Vehicles (CEV) is a designer and manufacturer of electric vehicles and components. The company's Might-E Truck, a zero-emission Neighbourhood Electric Vehicle (NEV) is ideal for recycling and waste collection, among a wide range of applications, and is built on a heavy-duty chassis and powered entirely from electric batteries.
According to Randy Holmquist, CEV's owner, their company's commitment to the environment reaches far beyond the products it designs and creates. "At CEV, we believe in the importance of leading by example", says Holmquist, "and we continue to take steps to reduce the carbon footprint of our operations". He says this includes practices such as heating their facilities and running their delivery truck with recycled waste vegetable oil, obtaining non potable water from rain water, and operating their office and parts building with solar power. CEV has also installed large skylights in their main office to eliminate electric light use for most of the year, and they use a pure electric-powered company car for all trips under 100km.
CEV's Might-E Truck has a GVWR of 1,355 kg, is capable of carrying a payload of 680 kg and has a towing capacity of 1,800 kg. (For NEV certified on-road applications the payload is 230 kg.) According to Holmquist, the Might-E Truck has a record of great performance on both paved and gravel roads and has an option of turf tires for grass and dirt terrain. It features a driving range of up to 90 km on a single charge. As a NEV (or Low Speed Vehicle), it is designed and built to travel at a top speed of 40km/hr, which is mandated by Transport Canada.
Twelve six-volt lead acid batteries make up the battery pack, which has a 225 amp-hour rating, and the Might-E Truck temperature performance range is significantly increased on the lower end of the scale with a battery heating-pad system. The Might-E Truck is capable of performing in temperatures ranging from -20 to 40 degrees Celsius and is equipped with window defrost and a passenger heating system. Standard features also include a roof vent and over-sized sliding passenger windows.
Holmquist says all Might-E Truck vehicles are in 100 percent compliance with all CMVSS (Transport Canada) for Low Speed Vehicles, and units meet or exceed the safety requirements of CMVSS TSD #500 with features such as steel doors with side impact beams. Plus, he says, Might-E Truck electrical components are UL, CSA and CE approved, and battery Storage is located outside the passenger compartment in a vented steel enclosure under the bed of the truck.
When it comes to pollution, according to Holmquist, besides having no exhaust pipe, the Might-E Truck requires no gasoline, transmission fluid or antifreeze and so nothing can drip onto the ground and get washed into a water supply. The unit's batteries are also 97 percent recyclable and in fact, he points out, are required by law to be recycled.
Batteries are charged by simply plugging into a standard 110-volt electric outlet. A full charge takes about ten hours and an 80% charge about six hours. Holmquist also points to the very low usage costs of the Might-E Truck. When compared to a Ford F150 he refers to the Might-E Truck's zero CO2 emmissions, as compared to approximately 17.49 tons/year of emissions from an F150 (using a projection of 40,000 km/year), and about $2,0000 for electricity and battery replacement costs with the Might-E Truck, compared to about $7,800 for fuel and maintenance on an F150.
Canadian Electric Vehicles
Related Articles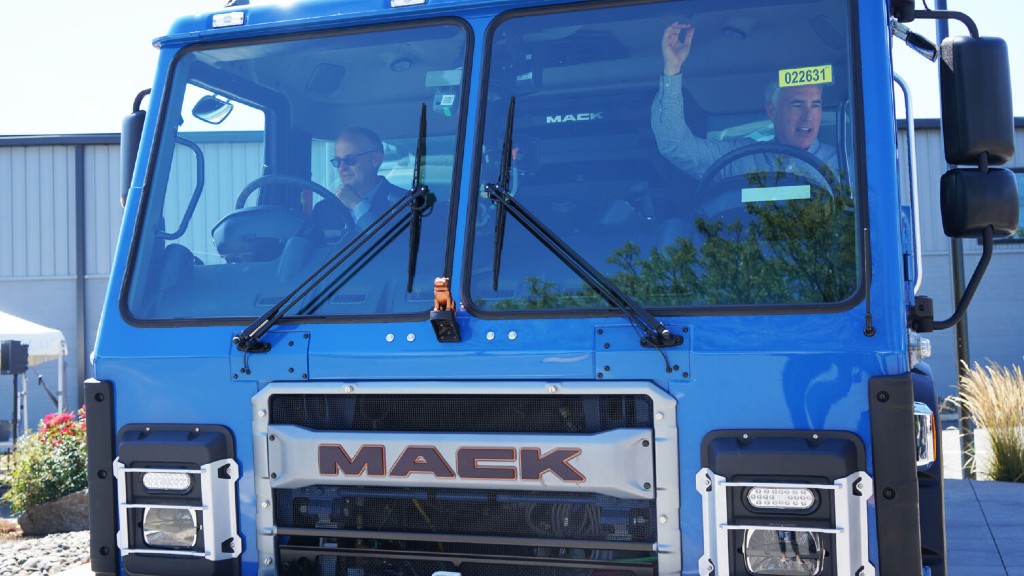 U.S. Senator test drives Mack electric collection vehicle at Lehigh Valley Operations facility