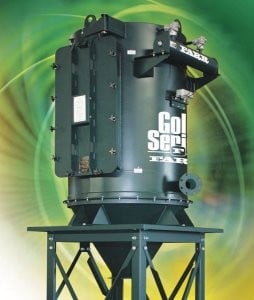 The new Gold Series High Vacuum (GSHV) dust collector controls emissions in applications up to 17 inches Hg vacuum or 8 psi positive pressure. It combines the features of Camfil Farr Air Pollution Control Gold Series collectors – rugged construction, high efficiency cartridge filtration and ease of service – into a heavily reinforced dust capture vessel designed for use as a central vacuum system, positive or negative product receiver or high pressure bin vent.
The GSHV collector comes with a choice of two or four Gold Cone HemiPleat filter cartridges, available in two efficiencies: 99.99 percent (MERV 11) or 99.999 percent (MERV 15/16) on 0.5 micron particles.
More from Environmental
It's harder than ever to get clean paper. But we've been successfully sorting paper on the front end with optical sorters since 2005. Why have we been so successful? Because we know it's not JUST about the optical. We focus on your entire operation, so you make the most of your fiber line. Is your optical sorter living up to its potential? Call us at 203-967-1100 for a free system evaluation.