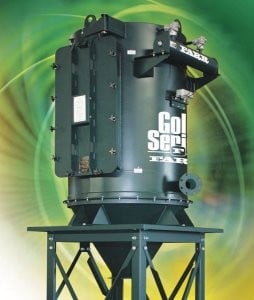 The new Gold Series High Vacuum (GSHV) dust collector controls emissions in applications up to 17 inches Hg vacuum or 8 psi positive pressure. It combines the features of Camfil Farr Air Pollution Control Gold Series collectors – rugged construction, high efficiency cartridge filtration and ease of service – into a heavily reinforced dust capture vessel designed for use as a central vacuum system, positive or negative product receiver or high pressure bin vent.
The GSHV collector comes with a choice of two or four Gold Cone HemiPleat filter cartridges, available in two efficiencies: 99.99 percent (MERV 11) or 99.999 percent (MERV 15/16) on 0.5 micron particles.
More from Environmental
Single-Ram and II-Ram High-Capacity Balers
At Machinex, we've been designing sorting systems for over 35 years, so we know how essential it is for MRF operators to have a baler they can trust and not worry about its operational reliability. This is why we design and manufacture reliable single-ram and II-ram high-capacity balers to specifically help optimize their operations.
Watch the video of our expert who presents the main features of Machinex balers delivering these important benefits:
Easy & accessible maintenance
Reduced maintenance & bale handling costs
Energy savings
Optimal bale density
For C&D recyclers, waste haulers, demolition contractors and landfills, there is a growing opportunity to profit from rethinking processes. Although every operation is different, by streamlining the front end of the C&D operation processes with purpose-built technologies, recyclers can tap into new end markets, accommodate higher material volumes, stay ahead of regulatory restrictions, increase recovery rates and add commodity revenue, while decreasing labor and other costs.
Download the new eBook to learn about:
Finding opportunities in the alternative to landfilling C&D
How facilities can increase their profits from C&D
Using the right C&D processing technology in the right locations