Customized solutions for material handlers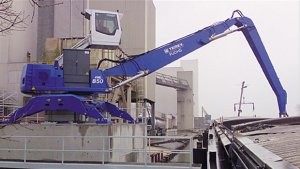 Besides its range of purpose-built, mobile machines, Terex Fuchs offers a range of customized equipment solutions to match specific customer requirements, including stationary handlers, pylon machines and those with alternative power sources.
The Stationary AHL850 (shown) and AHL860 material handlers offer reduced operating and maintenance costs, whether loading a shredder at a scrap yard or offloading barges at ports. Featuring electric power to minimize energy costs and emissions, both of these handlers can be equipped with customized equipment sized to meet operating requirements.
The broad footprint of the stationary undercarriage on these machines enables them to be equipped with various reach configurations – up to 16 m (52 ft) for the AHL850, and up to 18 m (59 ft) for the AHL860. Customers can also choose to configure stationary handlers with a hydraulically height-adjustable cab or an elevated rigid-mount cab with pylon riser, to position the operator comfortably at optimum eye level.
For mobile material handlers, Terex Fuchs can combine the upper- and under-carriages from two field-proven models to custom design a model that meets very specific customer demands. The Terex Fuchs MHL355 scrap handler for example, features the upper carriage from the popular MHL350 D joined with the larger undercarriage of the MHL360 D, which increases the wheel base by 200 mm (0.6 ft) and widens overall distance between outriggers by 240 mm (0.8 ft). Offering a maximum 16-m (52-ft) reach, this hybrid material handler further enhances performance and stability, particularly at long outreach. To enhance visibility, the model can also be optionally equipped with a rigid 1-m (3-ft) cab riser, which elevates operator eye level up to 6.8 m (22 ft).
Similar to the MHL355, the newly introduced Terex Fuchs MHL365 material handler with pylon blends the upper carriage of the MHL360 D with the undercarriage of an MHL380 D. Powered by a 249-hp (186 kW) diesel engine, the MHL365 handler offers a maximum 18-m (59-ft) reach, with either a straight or cranked-boom configuration. Plus, it can be equipped with oversized four-point folding outrigger plates to reduce ground surface pressure and enhance stable operation, even when lifting at an extended outreach. Additionally, Terex offers an alternative to mobile handlers on wheels; the RHL380 D material handler features a mechanical crawler undercarriage, durable double-row slewing ring design and optional maximum 22-m (72-ft) reach to boost productivity.
Terex Corporation
www.terex.com
Company info
Related products