Options increase versatility of MHL 331 D Material Handler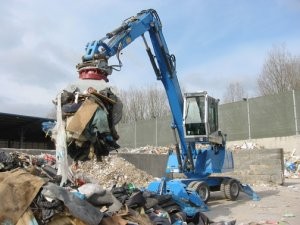 Engineered for an optimum balance of power and agility, the Terex Fuchs MHL331 D Material Handler is designed to tackle a broad range of indoor and outdoor applications, including work at scrap metal feeder yards, municipal solid waste (MSW) processing at recycling/recovery facilities (MRFs), and construction and demolition (C&D) debris sorting at transfer stations. Featuring a newly designed cab control system, the MHL331 D can also be specifically equipped with a number of options to maximize operating efficiencies for MSW processing and C&D debris loading, unloading and sorting operations.
The MHL331 D features an optional universal stick configuration that includes a flexible stick-mounted hydraulic cylinder for up-and-down tilting and left-and right slewing of the attachment. Up-and-down movement of the attachment is controlled by a foot pedal, and the handler's 0.65 yd3 (0.5 m3) waste grapple attachment delivers superior material sorting flexibility and efficiency, and has slotted openings for reduced weight.
Designed to clear pathways and shore up stockpiles, the machine also offers an optional clean-up blade, and up-and-down hydraulic movement of the front-mounted blade is efficiently controlled by expansion buttons located in the operator's right-hand joystick.
Standard separate cooling systems on the MHL331 D optimize operating temperatures, reducing component wear. With fan speed thermostatically controlled, the hydrostatically driven oil cooling fan delivers quiet and efficient cooling performance in ambient temperatures up to 122˚ F (50˚ C). For working in extremely dusty MSW and C&D applications, the MHL331 D includes additional box filters for the engine and hydraulic oil coolers and an optional cyclone dust separator at the air filter. Finally, the machine's optional reversible fans can be set to periodically clean the filters at preset intervals or on demand during machine operation.
The standard hydraulically height-adjustable cab offers a maximum 17-ft (5.2-m) eye-level elevation for excellent worksite visibility. An optional rear-view camera further enhances the view. Inside the newly redesigned cab, an exclusive multi-function button affords smooth ergonomic navigation through the multiple function screens on the high-resolution color display. The large console offers easy viewing of critical operating data, while the push-button control panel keypad with LED indicators enables quick activation/deactivation of machine functions.
Enhancing operator efficiency, left- and right-hand joystick controls are configured specifically for material handling operations. The left joystick controls horn, turn signals, magnet and slewing brake function, while the right manages grapple slewing and pressure boost functions. The right-hand joystick also offers expansion room to control optional equipment, such as the up-and-down movement of the clean-up blade.
The purpose-built Terex Fuchs MHL331 D is powered by a six-cylinder, fuel-efficient 153 hp (114 kW) turbo diesel engine meeting Tier III and Com III emissions regulations. The integrated hydraulic load limit sensing control feature allows optimal use of engine power, while protecting the engine during operation.
The MHL331 D's large swing drive delivers quick and precise slewing of the upper carriage for faster working cycles, while the high-performance double row slewing ring design enhances machine durability and slew-ring reliability. Large support cylinders on the undercarriage and a wide stance between outriggers deliver excellent stability combined with strong lifting capacities throughout the machine's operating range.
In addition to the 35 ft (10.7 m) universal stick reach configuration, the versatile MHL331 D can also be configured with either 39-ft (12-m) or 36-ft (11-m) maximum reach loading equipment to meet specific jobsite requirements. Lift and stick cylinders feature end-of-stroke cushioning and attach to the superstructure with dual section bearing connections optimizing component protection and performance. Inverted boom cylinder positioning reduces dust and moisture infiltration for maximum durability. Solid, anti-corrosive hydraulic pipes along the boom and dipper stick enhance longevity by reducing the potential for hose weathering and damage in harsh operating environments.
Terex Corporation is a diversified global manufacturer operating in four business segments: Terex Aerial Work Platforms, Terex Construction, Terex Cranes, and Terex Materials Processing. The company manufactures a broad range of equipment for use in various industries, including the construction, infrastructure, quarrying, mining, shipping, transportation, energy, refining, and utility industries.
Terex Fuchs
Related products