Kitchen foodscrap container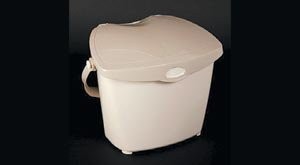 The Sure-Close in-home kitchen foodscrap container incorporates numerous unique features, including an interlocking seal and a superior lid clasp, which ensure that houseflies and fruit flies stay outside the container. Moulded-in stop points act to hold the lid open at 90 degrees, and units have multiple grip areas, a letterbox shape and a quick-release lid.

The Sure-Close is designed to be easy to use, carry and clean, and is available in two styles with a solid or ventilated lid. Integral venting and innovative interior fluting ensure that foodscraps remain aerated and odour-free. Furthermore, the integrated venting system means there are no filters for residents to replace. These containers contain a very high amount of recycled material, are fully recyclable, and are tested to CSA 1010 safety standards.