Route automation solution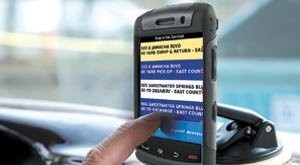 Mobile Pak from Soft-Pak is a solution designed to allow recycling and waste collection drivers to easily view and scroll through their route lists electronically. All route information and stop activity is entered via drop down selections and is instantly transmitted back to i-Pak or e-Pak for productivity, work orders, billing and route follow up. Drivers can easily view their stops, take photos for additional charges and check traffic status in real time.

Mobile-Pak can be mounted in the cab for easy viewing and hands-free use, or carried by drivers for mobility. All truck locations are displayed on the dispatcher's screen (via GPS with Google Maps), providing an easy view for each truck location. Mobile-Pak comes with real-time GPS tracking, and provides scheduled and on-call work sent instantly to drivers, as well as voice and e-mail communication to each driver. Plus, drivers can enter scale information from the disposal/transfer facility. Other features include: mapping, turn by turn directions and real time traffic status; picture taking capabilities for overloaded/blocked containers; and an optional rugged case for mobile protection. According to Soft-Pak, additional features which will soon be available, will allow drivers to capture signatures for customer verification, enter weights from on board scales, and enter container serial numbers for inventory tracking.