Plastic netting for scrap transport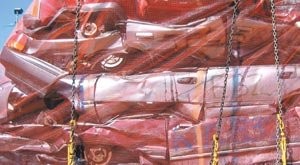 Car-Go-Net is designed specifically to eliminate costly labour associated with reusable tarps and screens. This open mesh plastic netting minimizes wind resistance while containing loose debris during transit, is easy to apply in a single pass, and its fused joints won't stretch or pull apart, like knitted hay bale net, to expose a load.

Car-Go-Net is available in either standard duty 3/4-inch openings or heavy-duty 1/4-inch openings for maximum containment. Both sizes are designed for one-time use to eliminate costly maintenance, and the mesh easily incinerates.

Car-Go-Net is ideally suited to comply with DOT and FMCSA regulations to prevent loose parts from falling from vehicles during transportation, and complies with Association of American Railroads open top loading rules for gondola cars.
Industrial Netting