Taking it to the house
Custom material handler racks up points in the scrap yard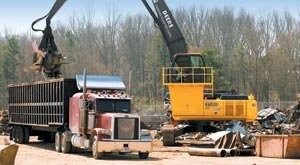 A winning basketball strategy often involves passing the ball inside to a power shooter, who wheels and dunks. The strategy, sometimes referred to as "taking it to the house," also works well for Jones Auto Parts & Recycling Inc., a scrap-iron yard located in Jefferson, Georgia. In this case the strength in the middle is a modified John Deere 350D LC excavator, fitted with a special boom and arm and a material-handling grapple.

"It more than handles the volume of auto bodies and scrap we have at this facility," says CEO and co-owner Gary Jones. "The hydraulics are very smooth, and its lifting capacity at every reach is perfect for our application here."
Gary Jones began discussing specialized material handlers with his local Deere dealer near the beginning of 2007. He wanted a Deere machine, but nothing in the line fit his exact specifications. He needed a reliable material handler that could build 25-foot-high stockpiles of scrap iron and car bodies. It also had to pick scrap from the tall pile and load open-top trailers.

According to their dealer representative, Ellis Jones (no relation), Gary and his brother Tommy – the business's other co-owner – knew the necessary specs.
From that point, engineers from John Deere and Portland, Oregon-based Pierce Pacific Manufacturing collaborated. Deere supplied the 350D LC Excavator, less the boom, arm, and cylinders. Pierce Pacific provided the 54-foot boom, arm, additional counterweight, and cab riser.

"It took about three-and-a-half weeks to assemble," says Ellis. "We attached the new boom, arm, cylinders, and cab riser, and widened out the undercarriage for stability. We used narrow tracks that wouldn't tear up the concrete floor on the scrap yard. It's built completely to John Deere specifications."
Some of the standard features on 350D LC material handlers include a 271 SAE net horsepower 9.0 L six-cylinder PowerTech Plus Tier III-certified diesel, increased swing torque, high level drawbar pull, and a Powerwise III management system designed to balance engine and hydraulic performance. 350D LC units also feature a wide expanse of glass, narrow cab posts, and numerous mirrors for nearly unobstructed all-around visibility.

For operator comfort, low-effort pilot controls are within easy reach, and a spacious, quiet, operator station features a full suspension high-back seat that adjusts independently, or together with the control console, to accommodate any size operator.
A little loyalty goes a long way

Gary and Tommy Jones began buying late-model Deere equipment just after the millennium. They bought their first 544G Loader in 2000 to handle scrap iron, and then a second a few years later. Eventually, two 544J Loaders joined the operation.

"We use both forks and buckets," says Jones. "The Deere Quik-Tatch coupler lets the operator switch from forks to a bucket without leaving his seat." The loaders use forks to carry auto bodies to the crusher, which mashes two bodies flat with one giant downward push.
"The newer John Deere equipment really increased production," says Jones. "Now we get more done in less time, and we have very little downtime. We enjoy working with the equipment instead of working on the equipment. Our efficiency has doubled with the acquisition."

Jones Auto Parts & Recycling's big 350D LC Material Handler loads out an average of twelve 48-foot open-top trailers per day. Each trailer averages about 35,000 to 40,000 pounds of scrap iron per load. Jones buys scrap from more than 1,000 sources, including used car dealerships, towing services and individuals.

"We keep containers and roll-off boxes at various businesses and manufacturers," says Jones. "We went with the new John Deere to speed production."

"We've always had John Deere equipment through the years. We get good service from our Deere dealer and our salesman, Ellis Jones."
Tommy Jones, who operates the 350D LC Material Handler, says; "I like it. The hydraulics are strong; it's a strong machine. And it's super-comfortable, much more comfortable than non-Deere machines. You can run it all day long and not get tired. There's no stress to it at all."