New Tier III compact crawler loaders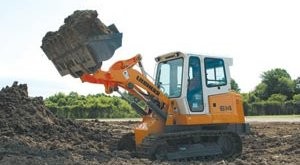 "In the fall of 2008 we announced that we would discontinue our dual branding relationship with John Deere for crawler loaders beginning in 2010," said Duane Wilder, president of Liebherr Construction Equipment. "The introduction of the LR 614 and LR 624 (in 2009) are the first new models with Tier III engines available in North America exclusively under the Liebherr brand. They join the previously introduced LR 634 to provide a full range of Liebherr designed and manufactured crawler loaders with bucket capacities from 1.57 to 3.14 cubic yards."

According to Liebherr, with the introduction of the LR 614 model, they have become the only manufacturer to supply a Tier III machine in its class. The LR 614 is a compact machine ideal for working in cramped operating conditions where a full-sized loader or excavator would be too large, including recycling and composting sites. Operating weight is 24,471 to 26,464 pounds and engine output is 101 hp. Features include a full sized operator's cab as well as intelligently arranged controls and display, an air-suspended operator's seat, an oversized front window and an unobstructed view to the work area.

While these machines are compact in size, they boast an exceptional tipping load of 16,751 pounds. This is due in large part to optimally-designed weight distribution, with the engine mounted at the rear of the machine, and particularly long running gear for a machine of this size. The proven combination of hydrostatic drive and Liebherr electronic machine controls ensure that whether travelling or loading, these machines respond quickly and precisely to an operator's demands. Standard load-sensing hydraulics further enhance the power and precision of the machine, while contributing to its economical operation.

The successor to the popular LR 622 crawler loader, the LR 624, features a new operator's cab, designed for exceptional comfort and excellent view to the work area and attachment. The LR 624 is powered by a Liebherr D 934 L Tier III compliant diesel engine. Engine output is 143 hp at 1,800 rpm, operating weight is 37,245 to 40,893 pounds, bucket capacity is 1.96 to 2.35 cubic yards and tip load is 22,857 pounds. Both models are available with a 4-in-1 bucket as well as a three-tooth rear mounted ripper.