Award-winning front loader collection truck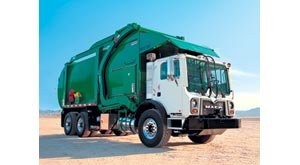 The Wittke Starlight is Labrie's newest front loader collection truck model. Units feature approximately 700 kg higher payload capacity than earlier models, and in addition to being lighter, the new vehicle is built to achieve higher compaction of material in the container. This results in a more efficient vehicle that contributes to fewer transport journeys and reduced environmental impact. The Wittke Starlight features an easy to maintain design, as well as low arm cycle time. Units use an advanced hydraulic system and components, and adjusted acceleration and deceleration ramps are designed to increase productivity.

These trucks use HARDOX treated wear plates in the entire body construction, making them the strongest front loaders in the industry, according to Labrie. The body is also highly resistant to abrasion, which increases stability, longevity and reduces body weight. Additionally, due to the use of HARDOX, steel thickness on these trucks is reduced and body properties are enhanced, which permits an extremely high legal payload, and makes the Wittke Starlight ideal for both residential and commercial routes.

Recently, the Wittke Starlight model was central in Labrie's winning of the 2009 Swedish Steel Prize (www.ssab.com) which is awarded for the use of high strength steels. According to a press release from the organization, the Wittke Starlight "puts to most evident use the breadth and opportunities offered by high strength steels, due to the precise optimization of all parts of the vehicle, which are made mainly of high strength steel sheet."