Finding the "go-to" machine
Multihandler proves ideal for C&D facility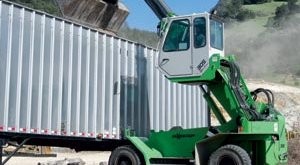 As the operations manager of a C&D facility, Adam Waters believes what he does is making a difference to the environment – and he points to his new Sennebogen green line 305 Multihandler as a key tool in this objective.
Waters is the operations manager for Clover Flat Landfill in St. Helens, California, a construction and demolition (C&D) facility located a short distance north of Upper Valley Disposal & Recycling. The operation began about a year ago when company president Bob Pestoni noticed that a lot of the refuse being dumped at the landfill could be diverted for scrap.

"We would see new stuff still in packages being thrown away. That's the reason why we opened the C&D facility so that this stuff doesn't end up in the landfill," explains Waters. "We just don't want to fill up the canyon with trash."
"For the diversion program, we aim for 60-70 percent, and on average we are probably pretty close to that," he says, adding that with current volume reaching 100 tons each day, he has already seen a significant decrease in the amount of material ending up at the landfill.

"Landfills are more concerned about yardage than tonnage," he adds. "A lot of stuff can be pulled out which takes up a lot of space."
"The single most common material pulled from the landfill is wood waste including construction lumber which generates about 10 to 15 tons a day. All of that used to go to the landfill," he continues. "Some of the bigger landfills can take in thousands of tons a day. Wood just doesn't compact very well so it takes up a lot of space."

The wood waste is extracted and ground up with much of it coming off of the picking line at the C&D facility and run through a screener. Some of the wood chips get sold and the rest gets composted. "Nothing goes to waste," says Waters who speculates that Pestoni will find even more uses for it in the future. "Perhaps the wood can be used for biomass energy. Maybe even use it to generate power for the facility some day."
Can't judge a book by its cover

With nine out of the company's 13 employees working on the picking line, much of the work at Clover Flat is done by hand or with the assistance of traditional front-end loaders with bucket and thumb attachments. However, it was obvious there was something more the company needed as it sought to improve productivity and efficiencies. They found it in the 305 Multihandler. According to Sennebogen, the 305 is the world's first multihandler featuring a hydraulic hi-rise operator's cab with an eye level of 13 feet 1 inch (4 metres). Units are able to reach a lifting height of 24 feet (7.3 metres). And with an operating weight of just over 25,000 pounds (11 tons), they are outfitted with a 124 hp (91 kW) diesel engine.

At first glance, Waters admits he was skeptical. "I didn't even know about Sennebogen until my boss read about the company in a magazine article. And I didn't know anything about the 305 other than what I saw in a picture," says Waters. "I unloaded it off the truck and I remember thinking to myself, 'I don't know about this.' But we have been running it for a while now. It's very sturdy and right away we noticed that this machine was different." He explains that the machine was required to do a variety of tasks that would normally have taken more than one piece of equipment.

"We needed it to do everything including pushing material onto the feeding belt. We have to push but we also have to feed the hopper too. We have all our picking lines raised up with drop boxes underneath. When they get full they are too heavy to pull in and out with a skid steer, but this machine has no problem pushing these boxes around," Waters adds.

The 305 Multihandler is well suited for all loading operations (including sea container loading with special attachments) as well as lifting operations that require extra reach. Plus, a hydraulically controlled quick-change mechanism with an extra-wide quick-change plate has a very large tip angle, offering optimal shovel control. This ensures clean, fast and efficient tipping with minimal debris lost during travel as well as minimum material left in the bucket when dumping. Some models also have an optional longer XL telescopic boom which provides the operator with an extended reach and lift height of 30 feet (9 metres). Greater reach and loading ability means that the operator can access heights and dump materials that traditional telehandlers or forklifts cannot do.

Small in size, big on work

With dimensions of only 15.7 feet long (4.8 metres), 8.2 feet high (2.5 metres) and 8.1 feet wide (2.48 metres), combined with crab steering, all wheel steering and front wheel steering, the Multihandler is tailor-made to work in tight areas, which is a key feature for operators at Clover Flat Landfill.

"We are working in a small area so we needed a small loader, something that is maneuverable because we have to take trucks down a road to the scale and back up again, so it's easy to get around other vehicles," says Waters.
The innovative hydraulic hi-rise cab is one of the features that Waters appreciates the most. The ability to raise and lower the cab offers operators less guesswork and more precision – to better see where they are going, what they are moving and where they are taking it.

"From a safety stand-point, it's a nice unit for working around the public. It's so small and compact the operator can see all around. It's nice to have that kind of visibility," he says. "We have the cab three-quarters in the air most of the time."
A three-yard grapple bucket is the primary attachment used by the crew at Clover Flat Landfill for their 305 Multihandler and according to Waters that is all it needs to get the job done.
But these units are engineered to accept a complete line of attachments, including orange peel grapples, attachable forks (available with sideshift), timber grab, sweeper and various buckets with and without teeth, and with or without grippers. Attachments take only minutes to change and the machine is equipped standard with a hydraulic quick coupler.

Besides versatility, the 305 machine is also extremely fuel efficient and easy to maintain. After running the machine about 10 hours a day, Waters says he was surprised how little fuel the machine consumed.
"It gets used more than any other piece of equipment," he says, adding that he was just as surprised to discover that its excellent fuel efficiency did not come at the expense of horsepower. "That unit only has a 4-stroke Deutz engine but it has a lot of power," he says, adding that the engine is Tier III compliant.

The 305 Multihandler also comes with a reversing fan to clean out the cooling system, and daily maintenance and fluid level checking are all at ground level. Plus, according to Sennebogen, the user-friendly design and engineering make the 305 Multihandler a turnkey operation for any experienced operator.

"We haven't had any downtime with this machine. We haven't blown any hydraulic lines. All we have done is replace filters and tighten the fittings from the vibrations," says Waters, adding that all the parts he needs are available from his Sennebogen dealer, and now that the company has opened a new warehouse in the U.S. he figures getting parts will be even easier.

"Working around trash and debris is a messy job which is hard on equipment. (The 305) has a fuel efficient engine but it can lift and push a reasonable size load. It's like having a big loader in a small package," he says. "It does everything we need it to do effectively. It pushes empty or full 30 to 40 yard drop boxes, it maneuvers around vehicles in tight spots, it gives the operator an unobstructed view of the pedestrian traffic."

With 1,000 hours of service on the machine after the first six months, Waters says the Sennebogen Multihandler has already proven its reliability. "For us, it is the lifeblood of the C&D facility."

Company info
Related products