Reducing holiday season waste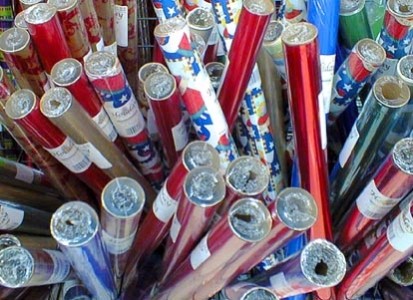 North Americans love their holiday traditions. But those traditions create a lot of waste. More than two billion Christmas cards are exchanged each year and Business Week Magazine reports that U.S. consumers spend approximately $5 billion on wrapping paper alone, most of which is tossed in the trash. But you can save money and resources by following a few simple waste reduction tips.
Instead of sending paper cards, send electronic greetings to those with on-line access. There are a variety of free e-card services available, including sites such as Yahoo.com, or you can Google search "e-cards" for more alternatives. After all, it's the thought that counts.
If you do use paper to wrap gifts, save the wrapping and bows for reuse. If the paper is damaged beyond reuse, find out if your municipality will accept it for recycling. When you purchase gift wrap, choose a type that can be recycled. You can avoid wasting paper altogether by substituting reusable cloth gift bags instead of wrapping paper. It's the part of the gift that keeps on giving. You may even get it back eventually containing a gift for you.
When shopping, bring your own bags: paper, plastic and cloth all work. Keep them in your backpack, purse or pocket so they are handy to use.
Another idea that adds some fun to gift giving is to save the colour comics from your newspaper to use as wrapping during the holidays. In most cases, this material is easily recycled after gifts are opened.
Save gift and shoe boxes and use them again. Many boxes fold down and take little room to store in a closet or cabinet.
If you're giving an oversized gift, such as a bicycle, just tie a bow around it instead of wrapping.
Start a tradition of Christmas stockings for each person. Little gifts can be put in the stocking without being wrapped. The stockings can be used year after year.
Alternatives that require no wrapping at all include concert tickets, museums, or sporting events, gift certificates, house plants, gifts you make or even gifts of your own time.
Use the skills you have to make a present. Give your own personal gift certificates for cooking, baby-sitting or garden and housework. Homemade gifts are always appreciated. If you are good at cooking, try baking cookies or muffins or making homemade jam. All these things can be placed in reusable or recyclable containers. You extra effort will be appreciated.
Be creative! Instead of buying toys, make your own. Old gloves and socks can easily be changed into puppets and a big cardboard box can be cut into a puppet theatre. Give the young gardener a starter kit consisting of a pot, soil and some seeds. Children will enjoy watching their plants grow.
Give a "green" gift: compost bin, bicycle, transit pass, reusable lunch bag, cloth napkins or a reusable picnic set. If you buy toys that require batteries, include rechargeable batteries and a charger.
If you throw a holiday party, use Evite.com instead of sending paper invitations for those who have Internet access.
Decorate the outdoor tree nearest to your window rather than purchasing an indoor tree. Consider buying a durable artificial tree or buy a potted tree that can be transplanted into your garden after Christmas.
Buy a locally grown, pesticide free tree and compost, if possible, on your own property or take your tree to a charity tree-chipping event.
Choose to decorate your favourite houseplants instead of buying a Christmas tree; you will save time, money and the environment while still having a festive home.
Purchase LED lights. They last 7 times longer and use up to 95 percent less electricity than standard incandescent seasonal lights! They are available for both indoor and outdoor use and you have several colours to choose from.
By using a timer for your Christmas lights you can reduce your energy consumption by another 30-50 percent.
When purchasing lights, make sure they have a safety listing from Underwriters Laboratories (UL symbol), and use lights only as intended.
Ideally, the outside lights would only be run for 4 to 6 hours in the evening and the inside lights maybe twice that on holidays. However, seeing Christmas lights on the next morning is unfortunately not uncommon. Remember that incandescent bulbs generate heat and can be a fire hazard if left on near paper wrapping, plastics or dried tree branches.
Use rechargeable batteries rather than disposable batteries. They can be used many times and are collected by numerous retail stores for recycling.
The RCBC Hotline provides information on recycling, waste minimization, waste disposal and further seasonal tips. Please call 604-732-9253 (RECYCLE) in the Lower Mainland or 1-800-667-4321 in the rest of BC. Visit the Recycling Council of BC's web site at: www.rcbc.bc.ca. And have a Happy Holiday Season!