Obstacle detection system ideal for collection vehicles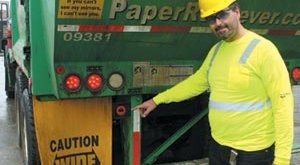 The Eagle Eye obstacle detection system is designed to improve overall driver hazard awareness by monitoring side and rear "blind areas" or "no zones" for people, vehicles and objects. Drivers are alerted both visually and audibly to potential contact beginning at eight to ten feet away from the vehicle, and up to 20 feet. The system provides drivers with obstacle location and precise distance information, using up to ten sensors per vehicle.
This technology is designed to be driver-friendly, alerting drivers only when an object is detected. It assists during backing or lane change maneuvers in tight spaces or in heavy traffic, and enhances crash avoidance driving skills. The system uses reliable and safe ultrasonic technology and features a rugged design that resists corrosion and impact damage.
Eagle Eye technology will lower overall operating costs and boost productivity, according to its manufacturer, and provides payback typically in less than one year. It is also expandable, so that users can start with rear or side coverage only, and add other zones later. Up to seven detection zones can be assigned on a vehicle, and multiple system configurations are available, as well as either in-dash or on-dash display mounts. Units are also weather-resistant, using heated sensors that work in fog, rain and snow, and sealed connectors, damage-resistant wiring and protective sensor hoods are available for high impact environments. Units are easy to use and are designed for a variety of commercial vehicles from recycling and waste collection trucks to loaders.
Company info