Labrie launches first automated CNG waste and recycling truck in Quebec
Collaboration with EBI and Gaz Métro results in première for the province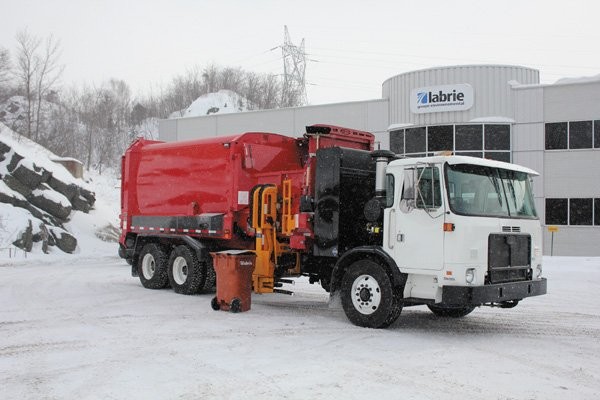 In December of 2010, Labrie Environmental Group was awarded the contract to manufacturer the first automated compressed natural gas (CNG) waste and recycling vehicle – the Labrie CNG Automizer – for the Quebec-based waste management firm, EBI-Environnement.
According to Labrie, this sale is a historic event for EBI and Labrie, as well as the gas supplier involved, Gaz Métro Transportation Solutions (GMST), and is the result of a tremendous collaborative effort from all three parties. This is the first CNG waste and recycling vehicle in the province of Quebec and the second for Labrie in Canada. Labrie's first CNG vehicle was delivered to the City of Toronto in the summer of 2010.
The role of GMST, which is a wholly-owned subsidiary of Gaz Métro and the province of Quebec, will be to supply natural gas through Gaz Métro's existing 10,000 km network, as well as the required compression equipment to fuel the vehicle with CNG. EBI's new Labrie CNG Automizer already passes 2010 EPA (Environmental Protection Agency) standards for engine and CNG fuel.
According to Labrie, CNG vehicles for the waste and recycling industry offer many advantages. The company says CNG is a better, cleaner fuel, that is more efficient to use when compared to traditional fuels, and that it will allow companies like EBI to generate cost savings, a greener footprint and lower gas emissions. Plus the company points to the fact that CNG vehicles operate with dramatically lower engine noise levels. Labrie says there is an approximate 15 percent reduction in engine noise (an average natural gas vehicle (NGV) truck idles at 71.5 DBA and a diesel-powered truck at 82.9 DBA.)
"We started developing and manufacturing CNG vehicles and technology in 2001, and we have a decade of experience and know-how now," said Claude Boivin, President of Labrie Environmental Groups.
"From the very beginning we recognized a great future for this technology. We continue to invest heavily into the different design scenarios applicable to CNG vehicles in our industry."
Mr. Boivin also mentioned that in 2010, Labrie installed a CNG station at their Saint-Nicolas, Quebec manufacturing site, designed to help ensure that each unit is fully tested in a controlled environment before being delivered. The CNG station provides increased efficiency, optimal design, production and total quality.
Denis Boivin, the manager of marketing and business development for EBI said; "The benefits [of CNG] are numerous and undeniable for the environment; it's a cleaner burning fuel with lower noise levels and lower maintenance and fuel costs. Labrie has over 100 CNG vehicles in operation throughout North America. In addition, the sheer proximity of having Labrie's production plant, customer service and technology expertise located right here in Quebec makes it a tremendous asset."
When Claude Boivin of Labrie was asked why he believed that the CNG market is becoming a topic of interest in Canada, he noted that there were many contributing factors.
"The market is trending towards CNG due to the increase in demand for alternative fuel technology, the lower natural gas prices and the constantly increasing oil prices. Simultaneously, government programs and grants, stringent gas emission standards, and continued progress in the natural gas engine industry makes the mix even more deliverable to our customers. The industry still has a long way to go, and all parties must become more involved."