Canadian company turning wine bottles into concrete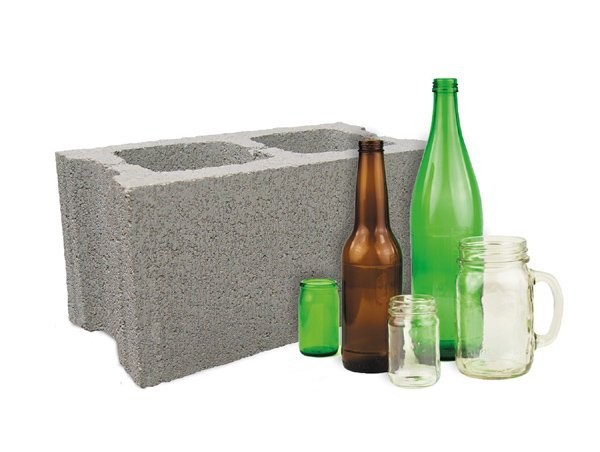 According to family-owned-and-operated company Atlas Block, they are the first in Canada to produce concrete construction and landscaping materials using coloured glass collected through municipal blue bin programs.
Based in Midland, Ontario, Atlas Block manufactures concrete blocks, pavers, masonry and veneers, which in turn support sustainable design by helping builders, landscape architects, designers and contractors achieve high levels of LEED certifications.
According to Atlas Block, it took four years of experimenting with more than 100 mix designs before they developed a formula that now results in up to 36 percent post-consumer recycled glass incorporated into their concrete products. One of the main challenges in the process was preventing a reaction that causes concrete mixtures to expand and crack, which can create serious structural damage. This reaction occurs through an alkali silica reaction when glass and concrete are combined.
To help with this problem, Atlas Block partnered with local company Poraver, based in Innisfil, Ontario. Poraver uses a patented recycling process that involves coating the tiny beads of recycled glass with metakaolin – a special agent that prevents the glass from reacting with the concrete.
"We did a lot of R&D with this product, using Poraver in our concrete mix," explains Laura Vaughan, VP of Atlas Block. "We made sure [using recycled glass] would not affect the structural attributes of the blocks, and that the strength and absorption would still be there."
"We can't put a product on the marketplace that does not meet the minimum strength requirements, but if someone was skeptical, we do have the test results to show the strength requirements are there," continues Vaughan. "The Poraver product doesn't affect the strength. That has more to do with the amount of concrete, moisture and compaction."
At Poraver's facility, mostly coloured recycled glass (largely from wine, beer and other beverage bottles) is collected and placed into a mill. It is then crushed into glass flour and combined with binding agents, expanding agents and water. The material is mixed in an industrial mixer, and poured into a palletizing dish that forms it into tiny beads. Atlas Block then uses this final product as an equal replacement for the sand component used in their traditional concrete manufacturing.
As a result, Atlas Block helps reduce the equivalent of 2.5 million wine bottles from landfills each year. The company says that using glass instead of sand is not only better for the environment but it also makes the concrete products lighter – making an eight-inch concrete block four pounds lighter than the average eight-inch concrete block.
According to Atlas Block, this "revolution in concrete" has captured the attention of municipalities and businesses in both Canada and the US. The company's concrete has already been used for projects such as the Canada Summit Centre in Huntsville for the G8 summit, and high-profile landscaping projects for Target Corporation's department stores in the U.S.
"It's been in the works for a number of years," says Vaughan. "We're really excited about it. It's something that will change our industry over time, and consumers will start to demand more and more of these types of products for a variety of uses." "It's just the right thing to do right now. This is step one. There are a lot of opportunities."
Moving forward, Atlas Block is now in the process of completing research on how to manufacture a concrete block made with up to 80 percent post-consumer recycled content.