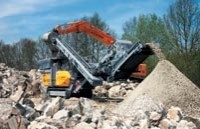 The RM100 compact crusher is engineered to efficiently process C&D waste such as concrete, bricks, asphalt and natural rock, into a high-quality aggregate end-product. Units are designed to recycle materials on-site, and feature up to 220 tons/hour capacity. The fuel-efficient RM100 is designed for easy transport and use in locations that are not accessible to many larger crushers, provides a defined grain size in a single pass, and utilizes wear-resistant crusher materials to keep maintenance costs low.
More from C&D Recycling
But we've been successfully sorting paper on the front end with optical sorters since 2005. Why have we been so successful? Because we know it's not JUST about the optical. We focus on your entire operation, so you make the most of your fiber line. Is your optical sorter living up to its potential? Call us at 203-967-1100 for a free system evaluation.
Traditionally, recyclers across Canada have sent a huge percentage of their recovered scrap metal to Hamilton, Ontario, or Pennsylvania in the U.S., via open-top rail cars and truck trailers. The scrap is then melted down and turned into new steel. This is still the case for much of our scrap steel, but recently the growing trend toward containerization has introduced new opportunities for efficient, cost-effective shipping of both non-ferrous and ferrous materials to overseas markets.