New molded fibre retail plug carrier part of green focus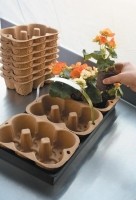 Western Pulp Products Company has introduced the Molded Fibre Retail Plug Carrier for 65 and 70 millimetre plugs. "With the nursery and greenhouse industry's recent focus on green products, we would like to suggest that a product's sustainability should be measured on its ability to fit the production needs of the grower, the retailer's need for handling and display, and offer real benefit and convenience to the consumer," said Jim Lee, Western's marketing and sales manager. "A number of companies are offering their definitions of what they believe are sustainable products. Most of the 'green' terms being used do not have commonly accepted definitions or industry consensus of what they mean. Some products, while being biodegradable, are not necessarily practical for the grower, retailer, or consumer." Western's Retail Plug Carrier is not only sustainable but, since the plugs are truly plantable, it makes sense for the grower, retailer and consumer. Growers simply load the mature plugs into the carrier and go to market. Durable molded fibre carriers hold up to handling, shipping and watering. Made from recycled Kraft paper, they can be recycled curbside with waste paper. The optional BioTag Carrying Handle, made from bio-based products such as corn and soybeans, is also biodegradable.
Products are made from 100 percent recycled newspaper and corrugated box trimmings. Western's nursery and greenhouse containers are biodegradable and can be composted. Molded fibre grows healthier plants by letting roots breathe, while insulating from temperature extremes.
www.westernpulp.com