New line of fabricated hammermills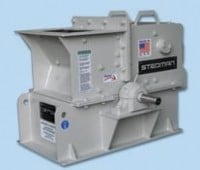 Stedman has introduced a new line of fabricated hammermills for crushing, grinding and pulverizing applications. The line includes Type "A," "B" and "BX" ham-mermill and features a lower cost and lighter weight than previous models. Hammermills operate with a rain of hammer or ring blows to shatter and disintegrate materials, require low maintenance and allow for easy access for adjustments and replacements. Units are available for a variety of size reduction applications of wood, gypsum and limestone, as well as various other materials including alum cake, bran, coal, fish scrap, shelled corn, steamed bone, dried milk, oats, salt cake and animal tankage.

Type "A" hammermills (up-running) feature a two-stage reduction principle for a dual mechanical reduction, using revolving hammers to shatter materials upon entry, and then further disintegrating materials against the breaker plates. Type "B" heavy-duty hammermills use heavy, reversible hammers in conjunction with Stedman's exclusive saw-tooth breaker plate to produce uniform product. Type "BX" medium-duty hammermills are similar to Type "B," but feature a larger feed opening for medium hard, lumpy or bulky materials. Both the "B" and "BX" are down-running hammermills.