Shredder rotor updated to handle filaments and films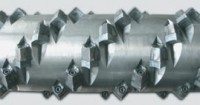 WEIMA has further developed the rotor of their single shaft WLK type shredder especially for difficult shredding of textile filaments, tapes, and films. The so-called F-Rotor ("F" stands for filaments) is characterized by novel blade separation and cutting geometry designed to guarantee an optimal shredding process with high energy efficiency.

When shredding multifilaments, big bags and films with single shaft shredders, materials tend to wrap themselves around commonly used rotors, which are not designed specifically for these applications. Many materials then begin to melt, due to the friction that arises. This frequently leads to blocking of the machines.

This new F-Rotor has been designed in such a way that the full extent of the rotor engages completely with the stator blade and quickly shreds material. The markedly narrower cutting gap compared with early rotor versions guarantees controlled feeding of the material to be shredded, so that wrapping around the rotor is prevented.

The fl akes produced, especially from films, filaments, etc., are pressed through the screen perforations in highly compressed form, so that they expand afterwards to the original volume. In order to avoid this causing blockages, these machines are designed with an exposed screen basket, so that the fl akes can fall onto the conveyor belt installed underneath the machine without being forced by pressure. The ground material produced can then be processed directly without further treatment in a downline extrusion line.

F-Rotors are used with working widths of 800 mm to 3,000 mm and with rotor diameters of 368 mm to 600 mm.
Company info