Handheld XRF analyzer features silicon drift detector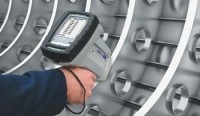 The X-MET5100 X-ray fluorescence (XRF) analyzer combines a silicon drift detector (SDD) with a powerful 45kV X-ray tube. This technology delivers fast, highly accurate measurement and enables light elements such as Mg, Al and Si to be measured without the need for complex vacuum pump or helium tank attachments.

Ideal for scrap sorters, this tool is engineered to ensure very fast laboratory quality analysis of aluminum and titanium alloys, as well as copper, nickel and steel, with extremely high levels of light element capability and sensitivity.

X-MET5100 compliments the model X-MET5000 introduced for routine multi-element analysis earlier this year. Both instruments are IP54 (NEMA 3) approved for dust and water splash protection and are built to withstand harsh conditions.