Demolition buckets add to loader fl exibility on the job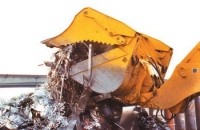 These versatile DB demolition buckets will dig, load, doze, grab, carry, rip and tear. Manufactured from high-strength, heat-treated alloy steel, these heavy-duty buckets will push over walls, grip and carry material, and load debris. With the clamp closed, they can be used in place of a dozer, and will add to a loader's overall flexibility on a demolition job. A slotted, extended spillplate on the DB demolition bucket improves operator visibility and protects the loader, and a reinforced moldboard and built-in protection for the hydraulic cylinders eliminate common bucket problems for demolition contractors. In addition, these buckets are customizable with any tooth system desired, and come complete from the factory with jumper hoses that connect to standard boom arm piping, and mount using standard factory pins.

Rockland's Progressive Link bucket thumbs are designed to help contractors achieve precise load handling and placement. With 150-degree rotation, these units have the ability to mirror a bucket's motion, following it through the curl, and allowing objects to be gripped and placed accurately. These thumbs easily move out of the way of the bucket when not in use, and the thumb cylinder is cushioned in both the extended and retracted position to protect the cylinder from wear and tear.