Hydraulic case makes grinders faster and safer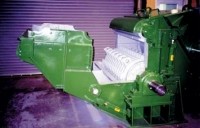 West Salem Machinery (WSM) has added a hydraulic case option for horizontal grinders. The use of a pivoted, split-front housing combined with dual hydraulic cylinders mounted to the sides of a grinder, make units faster, simpler, and safer to open. A large opening offers great access to common wear components, including the anvil, hammers and screens, and this design improves machine access, decreases downtime and increases safety.

The latest grinder model from WSM is the 5472BH Titan. These horizontal grinders are specifically built to process high volumes of stumps and wood waste for various applications, including for biomass fuel production. The stationary electric 5472BH Titan features dual electric-drive motors and a fully proportional hydraulic-feed system, as well as a heavy-duty multi-strand drag-chain infeed and large-diameter power feed roll for superior feeding of large batch loads. These grinders feature a 54-inch diameter by 72-inch rotor assembly with rigid hammers and replaceable tips, and the 800-hp electric drive system utilizes dual 400-hp motors for efficient and economical operation. Modular sizing screens ensure a consistently-sized fin-ished fuel product, and machine capacity ranges from 40 to 100 tons per hour, depending on feedstock and finished product size. WSM Titan horizontal grinders are available in a range of sizes with drives from 500 to 1,500 horsepower.
Company info
P.O. Box 5288
665 Murlark Ave. NW
Salem, OR
US, 97304

Website:
westsalem.com
Phone number:
800-722-3530
Read more