SEMI-TRAILER MOUNTED AUTOMATED SIDE LOADER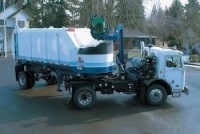 The latest STARR System automated side loader has been updated to offer better durability, easier maintenance, smoother operation and greater flexibility. The STARR (Semi-Trailer Automated Rapid Rail) System is the an automated semi-trailer refuse and recycling collection system, which consists of an automated Rapid Rail arm mounted on a truck tractor, and detachable, semi-trailer packer bodies. This arrangement gives the STARR a 42-foot curb-to-curb turning radius, for excellent maneuverability around cul-de-sacs, alleys and tight corners, all without risky backing.

The STARR's design lets operators keep hauling for longer hours, after most collection vehicles would have to head to the disposal site. When a STARR body is full, the operator can simply detach it, hook up an empty one, and continue on the route. When it is time to head to a transfer/disposal site, two trailers can be attached to a standard truck tractor and pulled in tandem, carrying up to 18 tons of payload.
Company info
2030 Hamilton Place Boulevard, Suite 300
Chattanooga, TN
US, 37421

Website:
heil.com
Read more
Related products