Crawler-mounted, low-speed shredder introduced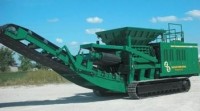 The brand new B2060T crawler-mounted shredding machine is built with Inter-tractor crawler frames that allow for excellent on-site mobility. Units are fully remote-controlled, and utilize a high quality Rexroth hydraulic system powered by a nine-litre 325-hp John Deere diesel engine. The heart of the B2060T is its five-foot square processing chamber with twin counter rotating shafts, 13 replaceable blades and two sets of replaceable cutting teeth per blade which rotate between 12 and 17 rpm. The machine is equipped with a cross-belt magnet and the discharge conveyor has a discharge height of 10 feet. General dimensions of the B2060T are 10 feet by 31 feet by 11 feet 3 inches (WxLxH) and its weight is approximately 75,000 pounds.

These shredders are designed to process a wide range of materials including scrap metal material, concrete with rebar, pre-cast concrete with 7-strand wire, asphalt, construction and demolition material, tires, white goods and green waste.