Screen plant uses 16-foot by five-foot screenbox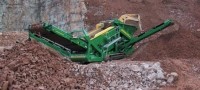 These new R155 High Energy Screeners feature the industry's first true 16-foot by five-foot screenbox, with a full 155 square feet of screening area. Units are designed for maximum production in the heaviest screening applications in C&D, rock, quarry, and soil products.

The R155 model is the first vibratory screener in the nominal 16-foot by five-foot class to be equipped with an upper screen that measures a true 16 feet by five feet, coupled with a lower screen deck measuring 15 feet by five feet. With an extra large top-mounted hopper, a hefty 125-hp Cat engine plus the new High Energy Screenbox, the R155 will process the heaviest rock and quarry materials while providing the versatility to produce finer material with equal efficiency. Units can handle primary screening for feeding a crusher, for example, as well as screening finished products. The High Energy Screenbox on these units can run with a high-powered vibratory stroke of up to 10 mm at 950 rpm, or six mm at 1,130 rpm. The screenbox is available with a complete range of screening decks, including the standard punch plate and optional woven mesh, finger deck or Bofar bar deck.

The R155 has also been fitted with a hopper that is at least 30 percent larger, compared to other units in this screener range, and the new 10.5 cubic yard hopper also introduces a new design that effectively eliminates the spillage problems common to this type of equipment. The system is configured to allow loading from the rear of the screener with most standard loaders.

65St and 80St stackers McCloskey also recently introduced their new 65St and 80St stackers, which have been redesigned to match the weight of each unit to its height and load requirements. This is meant to reduce material requirements and production costs, compared to units that were initially designed to withstand the extreme demands of larger equipment.

Like previous models, ranging from 40 feet to 125 feet, these new stackers feature patented counterweight design, which provides clearance for the transport wheels and frame to stand further back from the pile than conventional stackers. This design also allows operators to pile material higher, for 50 to 90 percent more material in every stockpile.
Company info
Related products